Use Vedic numerology for partner matching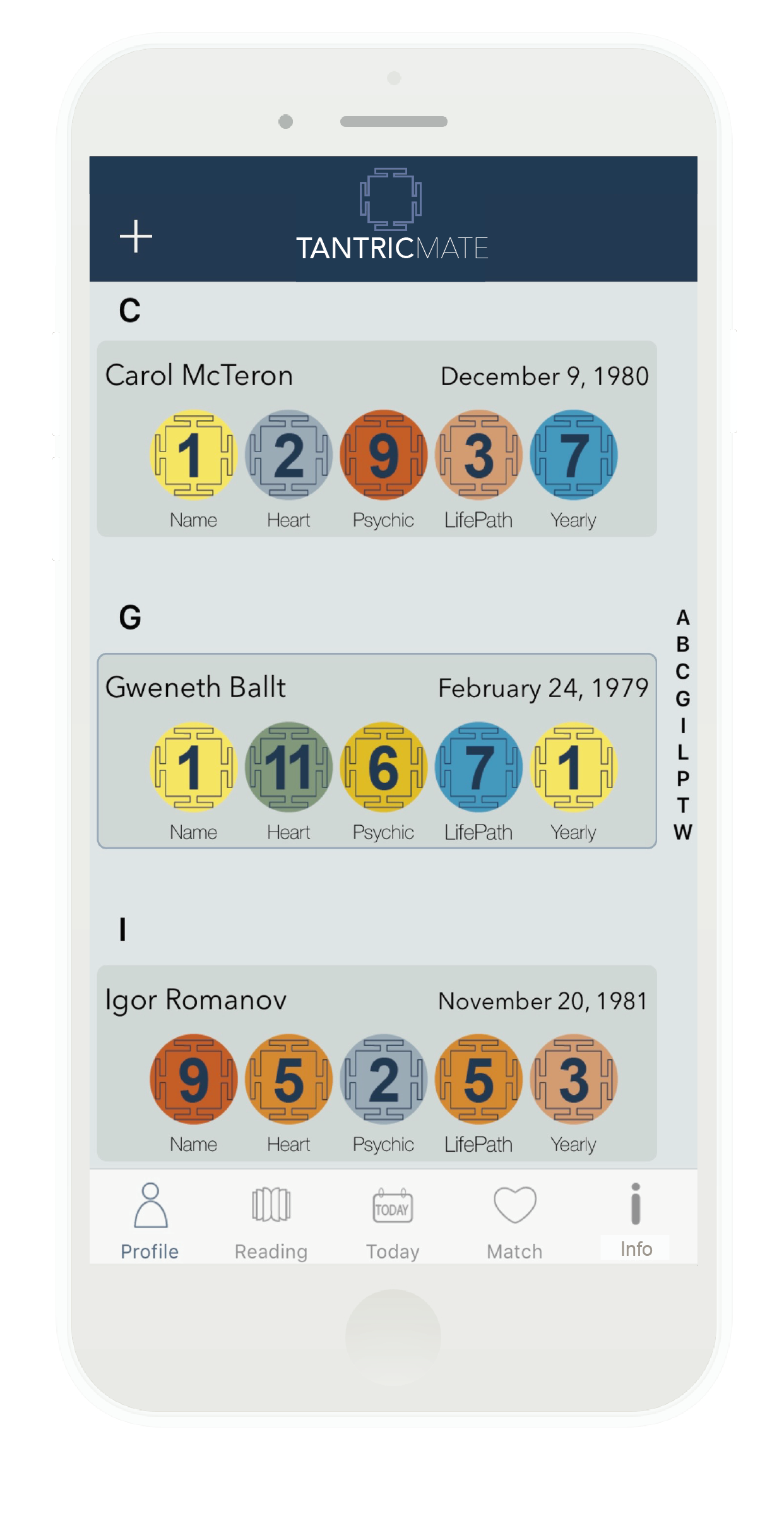 Getting your personalized reading using Vedic numerology
Get your reading based on Vedic numerology only using your name and date of birth.
6 personalized readings
Name – your potential
Heart – your desires
Psychic – your strengths
Life Path – your life's potential
Yearly outlook – what this year has in store for you
Daily – your reading for today.
 Mantra and meditation with customizable timer based on your reading.
Matching with your partner or potential partner using Vedic numerology
Ability to store unlimited profiles of names and date of birth.  Match your profile with that of your partner and get your results based on  your Psychic and Life Path readings
Unlimited profiles
Add unlimited profiles for reading and matching within this beautifully designed app.  Easily search by first letter of the name and see reading for every profile at a glance.
Match with as many profiles as you want
Match your profile with as many profiles you have within the app.
Tantricmate app supports the latest iOS  and the latest iPhones 
The Tantricmate app has been refined for over 4 years with constant updates to support the latest iOS and new Apple devices.  The user experience is seamless and beautiful.
Unlimited profiles of users you can track within the app
Profiles based on full name. and date of birth are easy to enter and navigate along with sorting and indexing by first name.  There is no restriction to how many profiles you create.
Your 6 readings based on Vedic numerology
Your 6 reading based on your profile.
Your name reading shows how the relationship of your name and how it affects you
Your name number reading shows how your name is influencing you and gain insight.
Get your detailed reading with planets and meditation
For each of the 6 readings based on your profile, get more detail, influencing planet, your mantra and meditation based on your reading.  Meditation includes a customizable timer that you can configure the length of the meditation.
Partner matching with unlimited profiles
Match your profile with any profile you have within the app.  The app supports unlimited profiles.
Learn Vedic numerology
Learn various aspects of Vedic numerology from the app.
Start your journey into the exciting world of Vedic numerology.
Check out these other cool websites and apps by the same authors :-
Yogicfoods.com features vegan & vegetarian recipes, yogic diet & great tips for a yogic lifestyle.
Yogamap.com app features 7 or 14 minute yoga classes on the go & amazing articles for incorporating yoga into your daily life.
Please contact us at app@tantricmate.com for any questions.
Get the latest news about updates, tips and more by following us on social media.